4 August 2017 |
Want to fly a Boeing 737? Now you can
We took to the virtual skies in southwest London's new Flight Experience simulator
Long gone are the days when the pilot might invite you onto the flight deck to marvel at the hundreds of switches, screens and buttons and enjoy the view from the nose of an aircraft.
Today, we passengers are kept in our respective cabins, left to wonder what it's like up front. But now you don't have to wonder much more. A new flight simulator has opened its doors to the public in southwest London so you can find out what it's really like to fly one of the most common commercial planes in the skies.
Our editor, Lottie Gross, took to the runway to test it out.
What kind of simulator is it?
It's a Boeing-approved training simulator that matches the 737 aircraft that many airlines use today. It's a fixed base simulator, which means it doesn't move on hydraulics to mimic turbulence or actual flight but is in a fixed position. Surprisingly, though, I only discovered this after my flight; I was pretty convinced throughout that I could feel the banking left and right, and the tilt during take off.
So what's it actually like to fly?
First impressions? It's tiny. For some reason, I'd expected a fairly roomy area, but it turns out the cockpit isn't much better than economy class. There's just enough room in the sim for a pilot, co-pilot and a couple of guests at the back should you want to bring any.
The experience starts with a rundown of all the equipment, which can be as dizzying as the flight itself. There are three different types of steering to master (floor pedals for runway manoeuvres, a central "wheel" for flight control and a side wheel for hard turns when taxiing), plus the thrust, wing flaps and landing gear lever, never mind the hundreds of switches ahead of you, above you and even behind you. You'll also be familiarised with the screens so you can use them during the flight.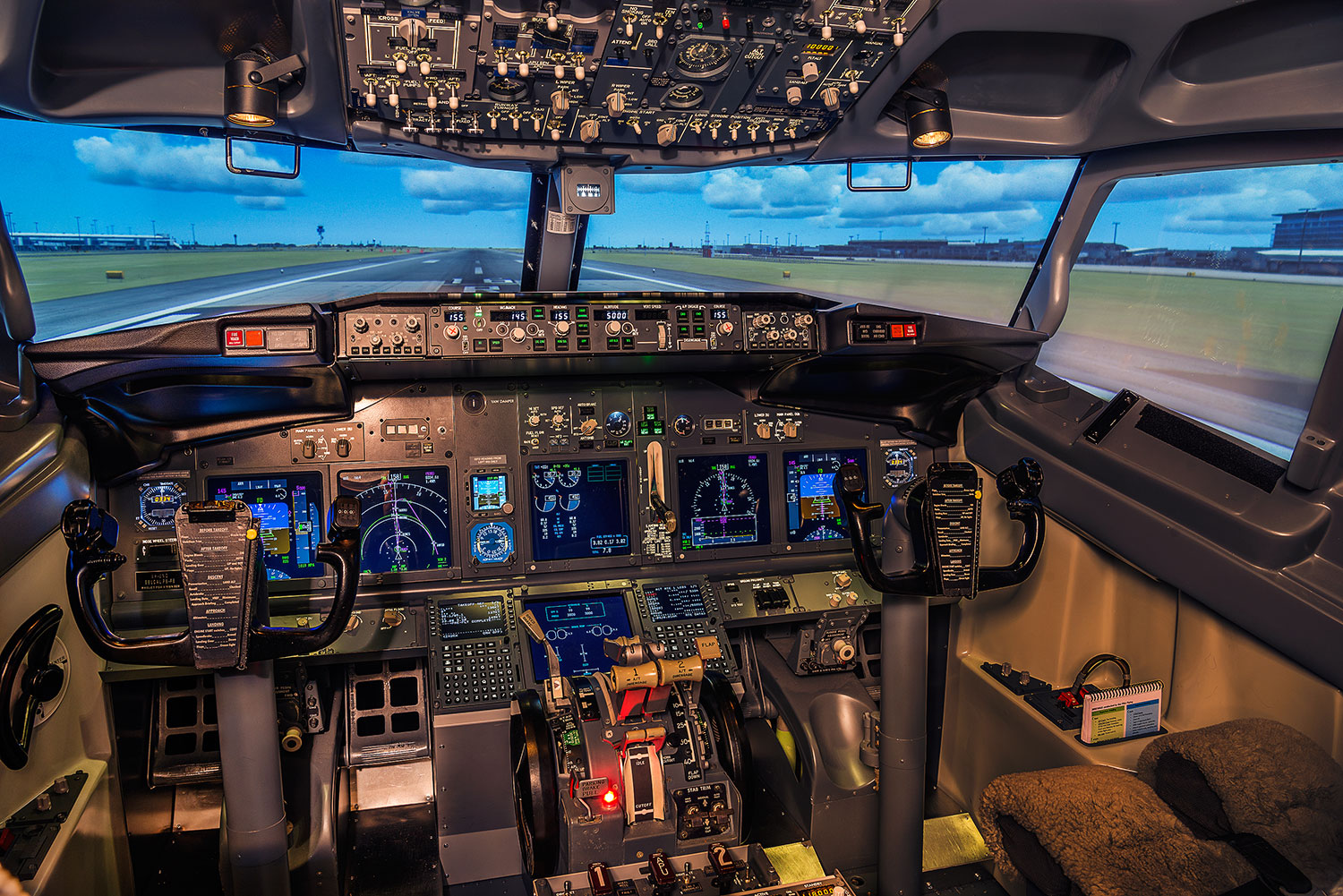 Fortunately, you don't need to know or even remember it all, as the sim instructor will guide you through everything as it happens. You'll have a new-found respect for pilots, though: they might have autopilot, but it's still a hugely complicated job that requires precision and a serious aptitude for multitasking.
We took off from Heathrow's second runway, climbed to 3,000 feet did a couple of turns and landed back where we began. It's surprisingly real, despite the lack of movement, and I felt my stomach churn a little as we made a few turns.
On my second flight, we took off from Hong Kong's international airport and landed at Kai Tak – not a long journey, but one that involves manoeuvring over skyscrapers at a right-hand turn to come into land on a runway that sticks out into the ocean. A hair-raising experience, even in a simulator.
Where can you fly to/from?
There are over 24,000 airports across the world programmed into the simulator, so you can take your pick. The Flight Experience team will call you before your flight to find out what you'd like to get from it so they can prepare the sim for your journey.
Image: Latn Black
Who can do it?
There's an arbitrary age restriction of 15-years-old, but ultimately it's about height: I'm just 5'2″ and struggled to reach all the pedals and levers, so the minimum recommended height is around 5″1′.
OK, I'm sold. Where do I go and how much does it cost?
There are a few different options, the cheapest of which sells from around £109 for a 30-minute flight, but the most popular session is £200 for a full hour – and don't forget, your passengers fly free.
You'll find the simulator on the Upper Richmond Road in Putney. Closest tube is East Putney and the closest railway station is Putney.
They also offer introductory training for wanna-be pilots and test preparation for qualified flyers.
https://london.flightexperience.co.uk/wp-content/uploads/2017/08/love_exploring.jpg
407
407
Atif Khan
//london.flightexperience.co.uk/wp-content/uploads/2015/11/LogoWebsiteHomePage-300x100.png
Atif Khan
2017-08-18 09:34:57
2017-09-15 07:37:15
Love Exploring